The Kenya National Examinations Council, KNEC, has released new payment details for all the contracted professionals who were in charge of the 2022 KCSE, and KCPE examinations that were done in November/ December 2022.
The contracted professionals who include Centre Managers (Principals and Head Teachers), Supervisors, Invigilators, and Security Personnel will receive their payments a few days after the official release of the results for the KCPE and KCSE Examinations in January 2023.
The Teacher Service Commission, TSC, had issued orders to its Sub County Directors to identify, nominate and ensure the vetting of teachers who were to serve as Centre Managers, Supervisors, and Invigilators in the national exams and assessments for the 2022 national Examinations.
In a circular that was issued recently month, TSC also ordered the vetted teachers to get registered with KNEC through the Cp2 portal by 18th October 2022.
TSC had asked teachers to use the link https://cp2.knec.ac.ke for registration purposes. According to TSC, the responsibility of the TSC Sub County Directors, who mostly delegate the duty to Curriculum Support Officers (CSOs), to shortlist teachers who will serve as Centre Managers, Supervisors, and Invigilators.
Continue reading;
This is what knec will pay the 2022 KCSE, KCPE contracted Professionals; Payment rates for Supervisors, Centre Managers and Invigilators
Payment rates for the Knec contracted professionals in 2021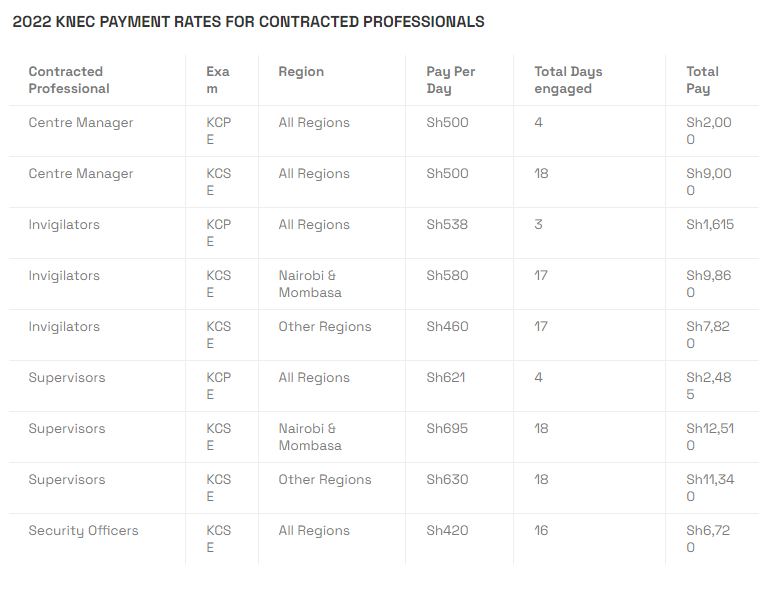 All teachers must then register themselves on the CP2 portal which will facilitate their payment.
To get the list of contracted professionals, assigned to your school, use the procedure below;
Log onto the KNEC contracted portal by using the official address; https://cp2.knec.ac.ke
Enter the User Name (Starting with the KCSE Centre code) and password (Specific to each center and held by the center manager).
Next, input the approximate distance between the center/ school and the exam distribution center.
Then log onto the center's account.
How KNEC 2022 Contracted Professionals can Download their Invitation Letters
Log onto the KNEC contracted professional's portal by using the link; http://cp2.knec.ac.ke/Professionals.
Click on the 'Dash Board' tab and check under deployments. See the Centre where you have been assigned to execute your duties.
See also;
Knec contracted professionals receive their payments