The Ministry of Education has today denounced a circular doing rounds on Social media about purported resumption dates for term one, 2020. A circular christened 'Ministry of Education Covid-19 response highlights' has been circulating on various social media platforms; causing anxiety among stake holders.
"The public is advised to ignore this piece of information which is circulating in social media. It is fake," reads a disclaimer from the Education Ministry.
Contents of the fake circular 
In the Circular, it is purported that schools will reopen for term one on April 27, 2020 to June 12, 2020. Research by this reporter revealed that this information was indeed adapted from the current communique by the Ugandan Minister for Education, Janet Museveni.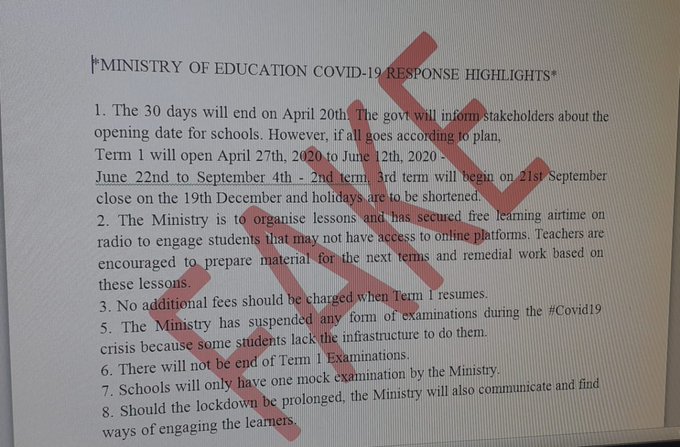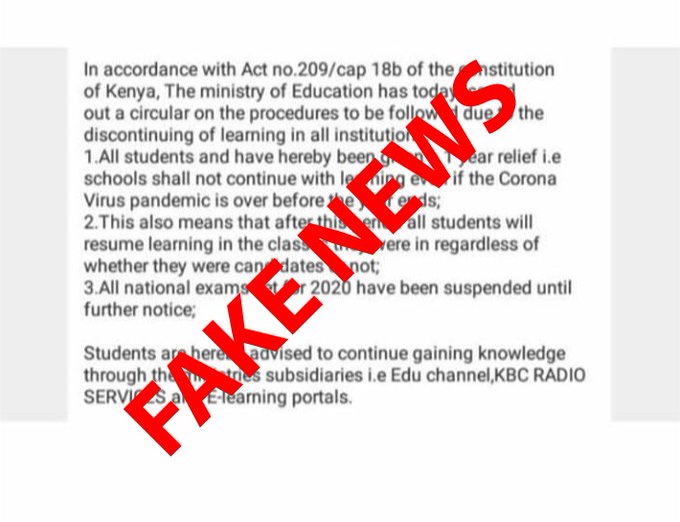 Below is an extract from the now confirmed fake circular;
MINISTRY OF EDUCATION COVID-19 RESPONSE HIGHLIGHTS
1. The 30 days will end on April 20th. The govt will inform stakeholders about the opening date for schools. However, if all goes according to plan,
Term 1 will open April 27th, 2020 to June 12th, 2020 –
June 22nd to September 4th – 2nd term. 3rd term will begin on 21st September close on the 19th December and holidays are to be shortened.
2. The Ministry is to organize lessons and has secured free learning airtime on radio to engage students that may not have access to online platforms. Teachers are encouraged to prepare material for the next terms and remedial work based on these lessons.
3. No additional fees should be charged when Term 1 resumes.
5. The Ministry has suspended any form of examinations during the #Covid19 crisis because some students lack the infrastructure to do them.
6. There will not be end of Term 1 Examinations.
7. Schools will only have one mock examination by the Ministry.
8. Should the lock-down be prolonged, the Ministry will also communicate and find ways of engaging the learners.
SCHOOLS REMAIN CLOSED
Schools were closed between March 16 and 18, 2020 as ordered by President Uhuru Kenyatta so as to curb spread of the deadly Covid-19. Some of the schools are being utilized as Covid-19 isolation centres in various counties. The Education Ministry has ensured the kids are engaged at home by partnering with media houses to provide electronic learning platforms.
---
FOR A COMPLETE GUIDE TO ALL SCHOOLS IN KENYA CLICK ON THE LINK BELOW;
Here are links to the most important news portals: