The Teachers Service Commission, TSC, has come out clean on the list of 6,000 advertised vacancies; that is doing rounds on Social media. The list that has been trending purpotes that the Commission seeks to recruit 6,000 intern teachers.
But, through a presser, TSC says the list is fake and warns Kenyans to be wary of fraudsters.
"Beware of fake documents circulating with purported teaching vacancies. TSC has not announced any teaching jobs." Says the Commission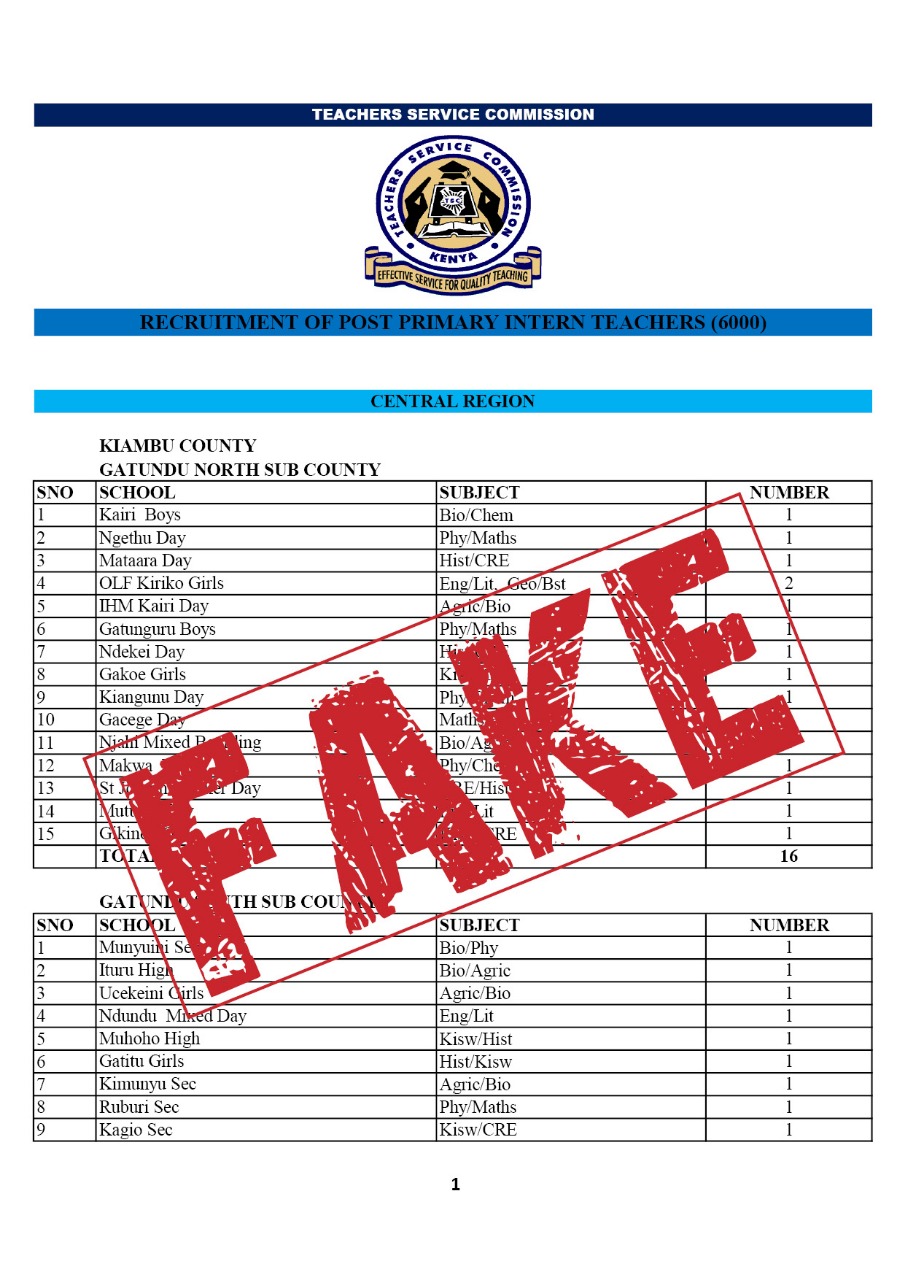 In a rejoinder, though, the Teachers Service Commission (TSC) is planning to hire a total of 15,000 teachers in the next three years on permanent terms. This means that the Commission will be engaging the services of 5,000 per year.
In what is seen as a move to sideline unemployed P1 certificate holders, TSC says they will only be hiring secondary school teachers.
Another 16,500 teachers will be engaged on internship basis within the same period. This means every year 5,500 teachers will be engaged on contract basis.
This information is contained in the 2021 budget estimates where TSC has been allocated Sh281.7 Billion Up from the Sh266 Billion allocated in the 2020/2021 financial year.
A chunk of the new teachers will be posted to secondary which will get 5,000 teachers of the 5,500 teachers.
Similarly 3,500 intern teachers will be hired in secondary schools while, 2,000 will be posted to primary schools.
Primary schools are being sidelined since the phasing out of the 8-4-4 system is expected to reduce the work load in the schools.
See also: Full details on the new TSC registration and recruitment requirements
In the new curriculum, 2 classes will be hived off since learners will move to secondary school after grade six under the Competency Based Curriculum (CBC).
When CBC is fully implemented, secondary schools are expected to have six classes; up from the current four. The Junior and Senior secondary schools will have three classes each.
In 2023, there will be a double intake in secondary schools as the first cohort of the CBC and the last cohort of the 8-4-4 system will converge at Junior Secondary schools.
This comes at a time when the Commission has come up with new proposals on the minimum entry of teachers to universities and colleges. In the new proposals TSC is proposing the Diploma to be the minimum qualification for teachers at all levels.
Starting this year, training colleges will launch a three year teaching diploma course that is aligned to the new curriculum.
You may also like;
Current TSC requirements for education (teaching) courses/programmes in Kenya
TSC requirements for primary teachers and details on the new Diploma in Primary Teacher Education Course (DPTE)- 2021
TSC Teacher New Minimum Requirements (Primary schools)
New TSC entry qualifications for teachers (Bachelor of Education Science and Arts Degrees to be scrapped)
Secondary School Teachers New TSC Registration Requirements
TSC teachers 2021/2022 recruitment guidelines, marking schemes and score-sheets (Secondary and primary)
New TSC recruitment guidelines for teachers; Latest score sheet, marking scheme
New TSC Certificate registration requirements and procedure for ECDE, PTE, Diploma, and Graduate teachers