The National Covid-19 Education Response Committee is racing against time to come up with proposals on the Kenyan academic calendar and schools' reopening. The committee's chairperson Sarah Ruto has invited all stakeholders and the public to submit their views on the best possible practices in returning the education sector to normalcy.
Join our growing community on Facebook. Click the link below;
OFFICIAL EDUCATION & TSC NEWS CENTRE FACEBOOK PAGE
The general public has up to May 22, 2020 to submit their proposals to the committee.
"Pursuant to article 10 (1) and (2) of the constitution and section 4(I) of the Basic Education Act, No. 14 of 2013, the committee now invites all stakeholders and the public to submit their views on the best possible national response (on how to address the current crisis created by the covid-19 pandemic)," says Dr Sara Ruto, the committee's chairperson, via a memoranda.
The committee is seeking input on how to safely execute the reopening of Basic education institutions. These institutions, that were closed indefinitely in mid-March, include Pre-primary, primary, secondary schools and Teacher Training Colleges.
Also read;
How to submit your opinion.
The committee also expects submissions on how to reorganize the school calendar and give views on the fate of boarding schools. Input is also required on the possible health measures that should be put in place for the learners and teachers to curb spread of the virus in schools once they reopen.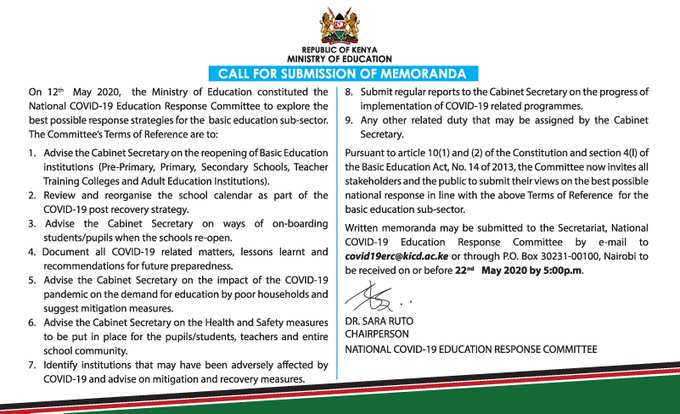 Wondering how to make your contribution? Kenyans wishing to make a contribution are at liberty to do so by sending a written memoranda to the Secretariat. This can be done via e-mail to [email protected] or through the postal office by using the address P.O. Box 30231-00100, Nairobi.
already some citizens have turned to social media platforms to air their views. But, this may not bear much fruits as the committee will only consider suggestions shared via the official email and postal addresses.
The Dr. Sara Ruto-led committee is faced with the daunting task of address such concerns as how social distancing would be achieved in the already overcrowded public schools.